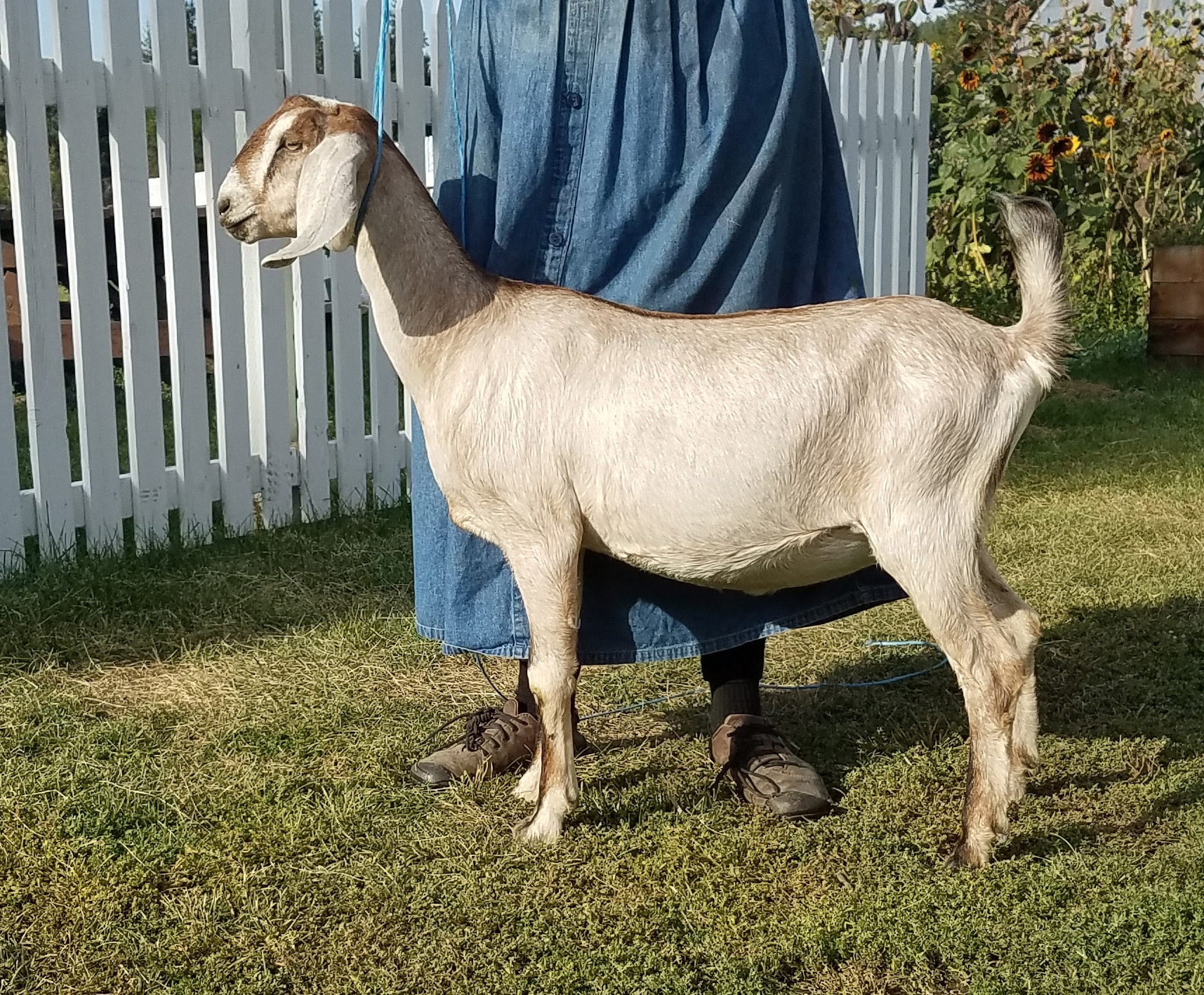 Grace is another beautiful Ricotta daughter.
She excells the most in body capacity and front end asembly.
We have high hope she will be as nice as her maternal sister Ella.
We are excited to see her freshen this Spring.
2019 Update:
We like to call Grace our mini Khocolate because she looks so much like a much more filled out verson ofher sire's dam Khocolate. She gave us a really beautiful doeling this year, and freshened with a really nice mammary system. She also peaked over 5#. We look forward to seeing what she will do in the future.
Date of Birth: 3/5/18
Registration Number:
CAE: NegativeBy parentage
CL: Negative By parentage
G6S:N/A
TB: N/A
Brucellosis:N/A
PTI/ETA
PTI
PTI
ETA
ETA
LA: N/A
DHIR: N/A
Kidding Record:
Related Goats in Herd:
Sire:Royal Highlands True Vision
Paternal Sister:
Royal Highlands Brooke Melodie
Maternal Sister:
Royal Highlands Mozzarella
Daughter:
Royal Highlands Choc Truffle
Pedigree:
Sire:

ROYAL HIGHLANDS True Vision

Sire's Sire:

NOMAD RAGING STORM

Sire's Sire's Sire:

SAADA X-QUISITEMOSCATO

Sire's Sire's Dam:

NOMAD SWEET BAKLAVA

Sire's Dam:

ROYAL HIGHLANDS KHOCOLATE

Sire's Dam's Sire:

ROYAL HIGHLANDS CAPT CONVCTION

Sire's Dam's Dam:

ROYAL HIGHLANDS KARLA

Dam:

CRESCENT-FARM RICOTTA

Dam's Sire:

REUEL JAEL'S WC JASPER

86VEV @ 2 yrs

Dam's Sire's Sire:

REMUDA WINTER CONSTELLATION

90 VEE @ 4

Dam's Sire's Dam:

SGCH REUEL RHESA'S JJ JAEL

91 EEEE @ 8 yrs

Dam's Dam:

CRESCENT-FARM CHEVEE

89 VVEV @ 6 yrs

Dam's Dam's Sire:

Luck-E-G Piejar Avante **DNA

*B 86 +VV @ 2 yrs

Dam's Dam's Dam:

SG CRESCENT-FARM CHEYENNE

91 VEEE @ 7 yrs