German Shepherd Puppies for Sale!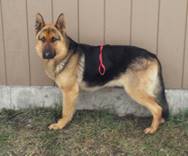 When we moved to our farm over 20 years ago, we inherited with the property an incredibly beautiful Shepherd, "Bear". He was extremely loyal to his master (who was a man around 60 years old), and had never been around children. Our little Sarah, just 1 year old at the time, won his heart and he became a wonderful family dog. We fell in love with the breed and after his passing we again hoped to find another great shepherd. Around 5 years ago, we were selling some of our goats to a couple in Montana, they mentioned having shepherds. Our ears perked up as they told of the quality registered dogs they bred and trained for search and rescue. However at the time there was no way we could afford such an incredible animal. Some time went by and one day we received a phone call from the dog breeder. She said that she had retained a puppy for her stock, however another breeder from the coast had offered her another puppy out of some new lines that she had been waiting for. She said she couldn't keep him as well as the other puppy, and asked if would we be interested in him for a goat trade. Wow! Praise the Lord. We traveled to Montana to pick up Ranger Van Buskirk, a beautiful male shepherd. He was all puppy, but very loving even with our baby, Lilly, who was almost his same age.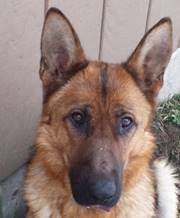 As he grew, we hoped that someday we would be able to find the right female for him. The Lord was so faithful. Again, through a goat sale, some shepherd breeders noticed Ranger in the yard and asked about him. We told them that we hoped someday to find a female. They told us that they happened to have a female available that had just been born. Her parents were imported straight from Germany and were top notch animals. Wow! We were able to pick up Renate-Sonja Van Buskirk shortly thereafter.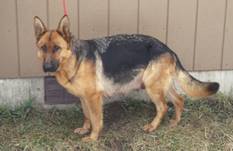 The Lord blessed us with these two beautiful animals and as of Christmas morning (12-25-16) we now have five wonderful pups to offer for sale. Four females and one male. We are selling them registered for only $750 each. They will have their first set of shots and a health check from our local vet. They will be ready to go to their loving, forever homes on February 19th (8 weeks old).
This is Ranger and Sonja's second set of pups. Sonja is a proven good mother. Please contact us at faithwoodworks@yahoo.com, phone us at 208-437-0447 or text us at 509-671-2232 to make your reservations or for any other questions. A deposit of $100 will hold one of these pups.