Royal Highlands Mozzarella
Ella At 1 Year
Mozzarella or "Ella" as she is affectionately called, is a stylish little doeling with the coloring to match it.
she is very smooth through out,and has the solid front end assembly
that we are trying to bring back into our herd.
We are very thankful to have Ella as our last Bruchko daughter,and are excited to see how she matures.
2018 Update: WOW Ella is really blooming into the lovely doe we had hoped she would be! Her body is filling out very nicely.She a lot of body capacity for her age. She peaked at 5.5#and has an amazingly long fore-udder, with a mammary system much improved over her dam. She's develaped a bit of an snobbish Personality toward people which has given her a few enemies, but for now she will in fill her mother's place in the herd.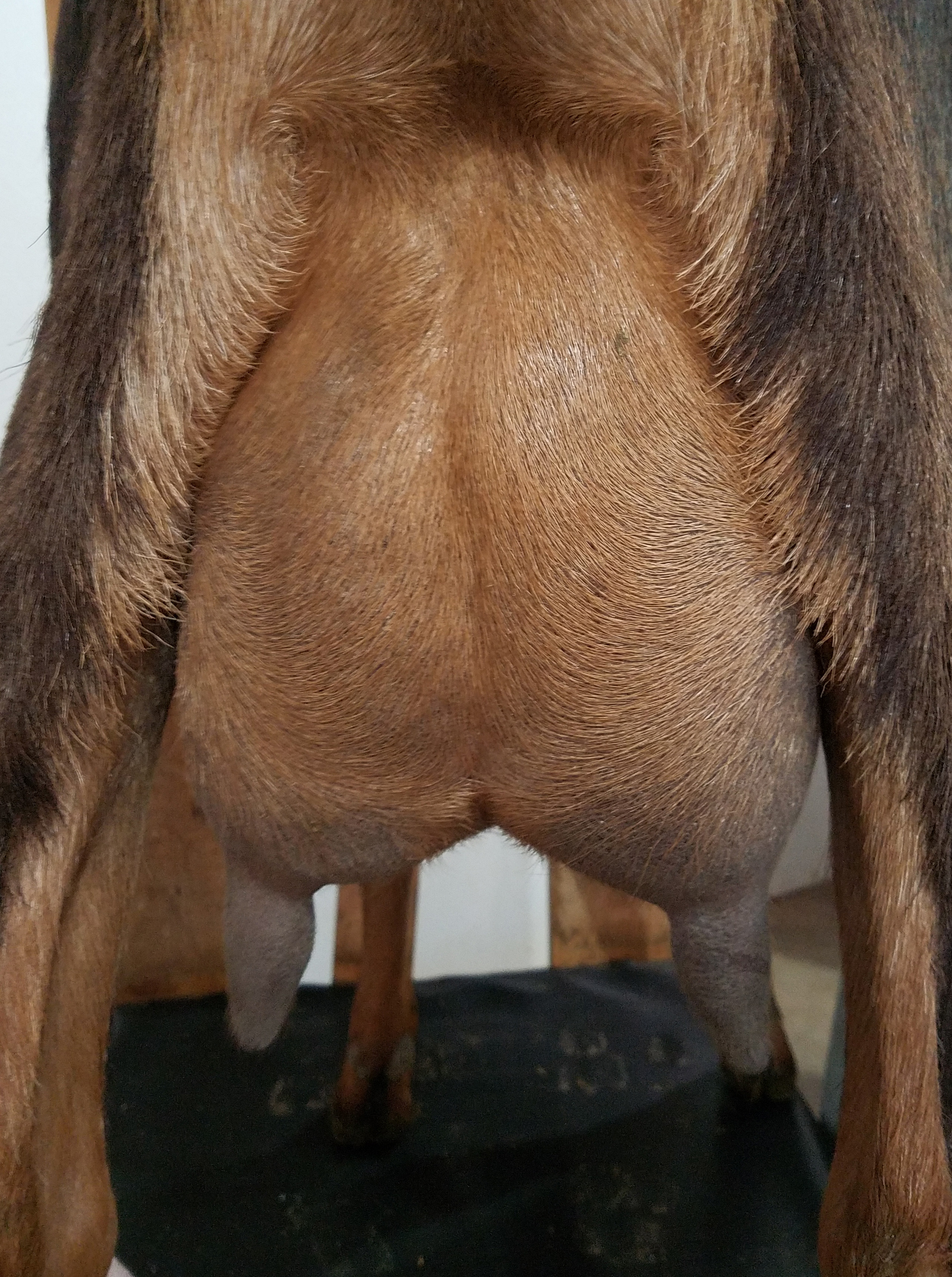 Date of Birth: 2/13/17
Registration Number:N1935805
CAE: NegativeBy parentage
CL: Negative By parentage
G6S:N/A
TB: Dan Negative
Brucellosis:Dam Negative
PTI/ETA
PTI
PTI
ETA
ETA
LA: N/A
DHIR: N/A
Kidding Record:
Related Goats in Herd:
Paternal Sister:ROYAL HIGHLANDS SWEETCORIANDER
Pedigree:
Sire:

ROYAL HIGHLANDS BRUCHKO

Sire's Sire:

LOT-O-PINES VALENCE

Sire's Sire's Sire:

GOLDTHWAITE ATLAST

Sire's Sire's Dam:

SG BEDOUIN DARK CRYSTAL
91 (EEEE @ 5 yrs

Sire's Dam:

SG ROYAL HIGHLANDS CHELLY

90 EVVE @ 3 yrs

Sire's Dam's Sire:

ROYAL HIGHLANDS MOOSE TRACKS

Sire's Dam's Dam:

SG CRESCENT-FARM CHASTA

Dam:

CRESCENT-FARM RICOTTA

Dam's Sire:

REUEL JAEL'S WC JASPER

86VEV @ 2 yrs

Dam's Sire's Sire:

REMUDA WINTER CONSTELLATION

90 VEE @ 4

Dam's Sire's Dam:

SGCH REUEL RHESA'S JJ JAEL

91 EEEE @ 8 yrs

Dam's Dam:

CRESCENT-FARM CHEVEE

89 VVEV @ 6 yrs

Dam's Dam's Sire:

Luck-E-G Piejar Avante **DNA

*B 86 +VV @ 2 yrs

Dam's Dam's Dam:

SG CRESCENT-FARM CHEYENNE

91 VEEE @ 7 yrs