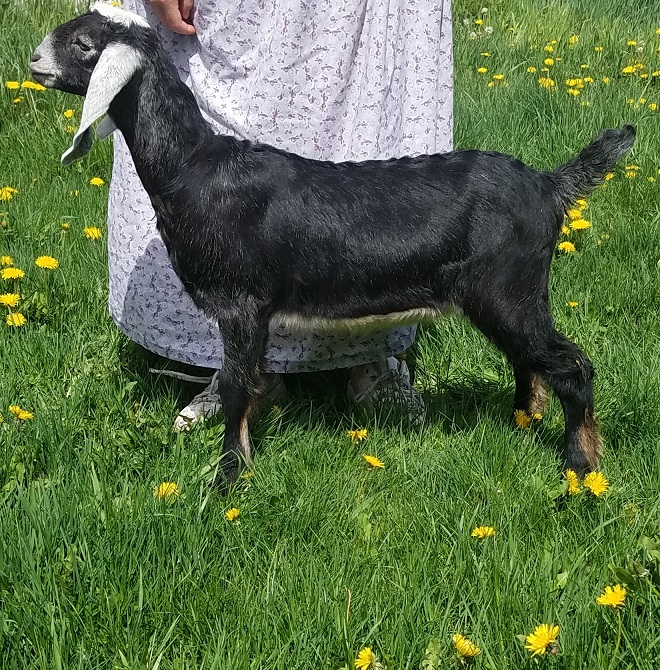 Sundae At 2 months
Sundae is another one of our beautiful Bunny X Vision doelings.
Sundae is a sweet little doeling that reminds me a lot of her dam at that age. Like her dam Sundae has taken a bit to come into her self, but she is devloping into a lovely lady with great breed character.
We look forward to watching her as she continues bloom!
Date of Birth: 3/4/21
Registration Number:N2211694
CAE: NegativeBy parentage
CL: Negative By parentage
G6S:N/A
TB: N/A
Brucellosis:N/A
PTI/ETA
PTI
PTI
ETA
ETA
LA: N/A
DHIR: N/A
Kidding Record:
Related Goats in Herd:
Dam: Royal Highlands Blue Bunny
Sire:Royal Highlands True Vision
Litter mate Sister:Royal Highlands CookiesNCream
Paternal Brother: Royal Highlands True Adventure
Paternal Sister:Royal Highlands Princess Natasha
Paternal Sister:Royal Highlands Sweet Dream
Paternal Sister:Royal Highlands Veronica
Paternal Sister:Royal Highlands Ocean Mist
Pedigree:
Sire:

Royal Highlands True Vision

Sire's Sire:

Nomad Raging Storm

Sire's Sire's Sire:

SAADA X-QUISITE MOSCATO

Sire's Sire's Dam:

NOMAD SWEET BAKLAVA

Sire's Dam:

ROYAL HIGHLANDS KHOCOLATE

Sire's Dam's Sire:

ROYAL HIGHLANDS CAPT CONVCTION

Sire's Dam's Dam:

ROYAL HIGHLANDS KARLA

Dam:

Royal Highlands

Blue Bunny

Dam's Sire:

ANCIENT WAY THUNDER

Dam's Sire's Sire:

Terratopia Flash of lightning

Dam's Sire's Dam:

SGTerratopia Rodeo's Genesis

90 VEEE @ 5 yr.

Dam's Dam:

Royal Highlands Princess

Dam's Dam's Sire:

The hells Canyon Orion

Dam's Dam's Dam:

Royal Highlands Princess Rhoda