The last born doeling this year, River has had more attention than most. She is a pretty doeling and everybody likes the little "river" down her face.
Her dam is one of our favorite does and has a well attached udder. Her lactation has proven very stable and she will be a strong milker in a few years. We look forward to having this doeling following in her hoofprints.
2016 Update: We have been eagerly awaiting the freshening of our first Regina daughter and River is not disapponting us. She freshened with an udder much like her dam. She peaked around 6/7#. Her body is still a bit immature, we'll see if she can keep up with her little sister Sadie:).
2017 Update: After we almost lost River two weeks before her due
date she has done remarkable! Not only did she pull through but she
Also retained her pregnancy and gave birth to healthy twins, and peaked at just over 9#!
2019 Update: River is really starting to come into her own this year!
She is over all a well balance doe with a great body a an amazing mammary system.
She peeked at over 11# this year. She has garcefully taken her place as our oldest senior doe.
We look forward to seeing her continue to bloom more in the coming years.
2021 Update: River is unfortunately did not settle so is remaining dry this year.
We are very please with how her yearling daughter Ocean freshened
We look forward to seeing River fresh again in the spring.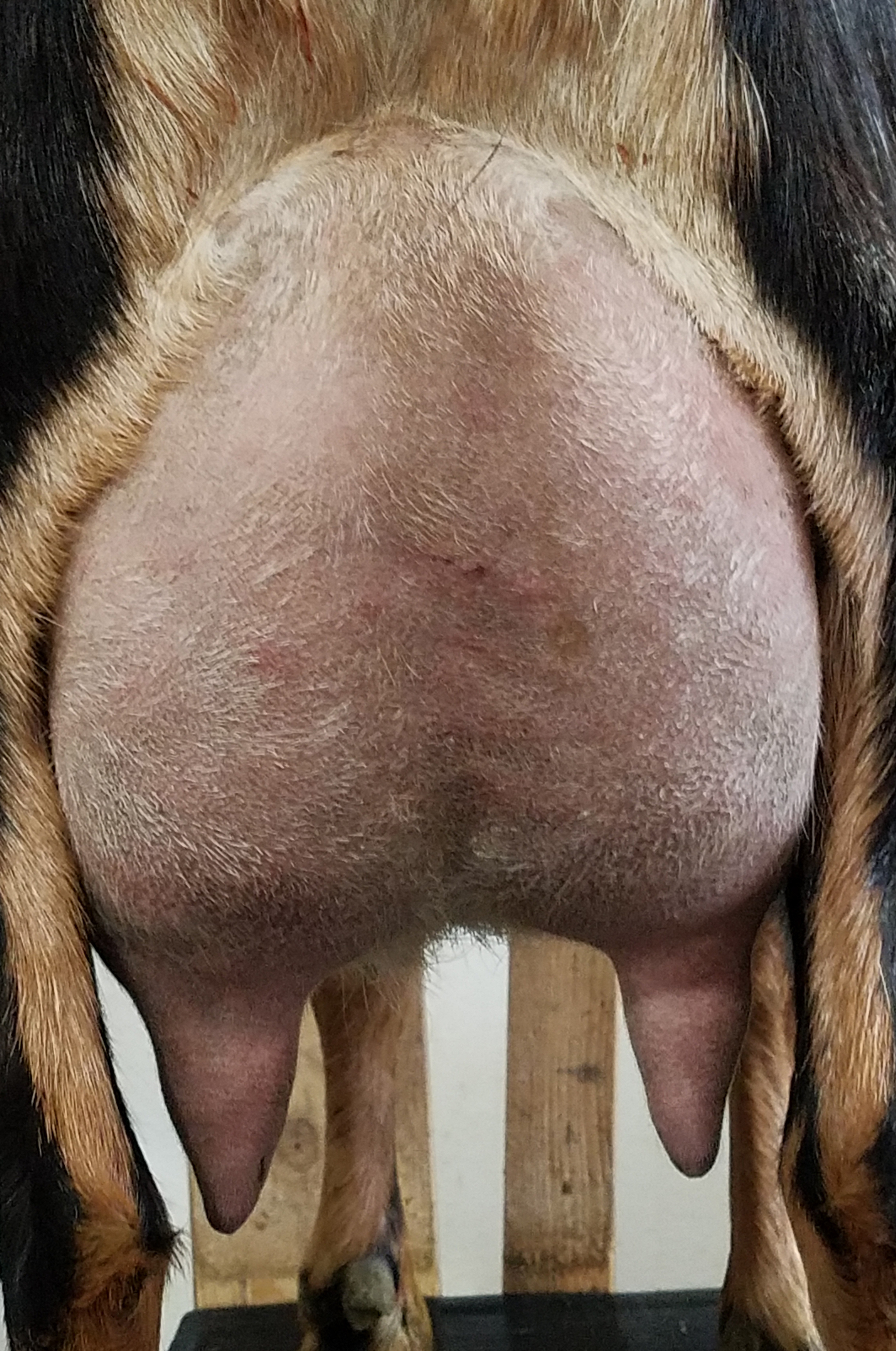 Date of Birth: 6/9/14
Registration Number: N1730407 (Click for ADGA pedigree)
CAE: Negative '20
CL: Negative ' 20
G6S: Not tested
TB:
Brucellosis:
PTI/ETA
PTI21:
PTI12:
ETA21:
ETA12:
LA: N/A
DHIR:
Age
Days
Milk

(lbs)

Fat

(lbs)

Protein

(lbs)
Kidding Record:
Related Goats in Herd:
Paternal sister: RH. Princess Sadie
Daughter: Rh. Ocean Music
Pedigree:
Sire:

Royal Highlands Capt Convction

*B

Sire's Sire:

Royal Highlands Chief Captain

*B

Sire's Sire's Sire:

My-Enchated-Acres SonRise

*B 87 VVV @ 1 yr

Sire Development Buck

Sire's Sire's Dam:

SG Bedouin Glitterbug

Elite 9*M 90 EEEE @ 6 yrs

Sire's Dam:

Royal Highlands Bella

1*M 83 +V++ @ 1 yr

Sire's Dam's Sire:

Goldthwaite Atlast

+*B 88 VEV @ 4 yrs

Sire's Dam's Dam:

Lot-O-Pines Smooth Sashay

Dam:

SG Royal Highlands Princes Regina

87 VAEE @ 2 yrs

Dam's Sire:

Lot-O-Pines Valence

*B

Dam's Sire's Sire:

Goldthwaite Atlast

+*B 88 VEV @ 4 yrs

Dam's Sire's Dam:

SG Bedouin Dark Crystal

Elite 8*M 91 EEEE @ 7 yrs.

Dam's Dam:

My-Enchanted-Acres MollyzGrace

8*M 84 +VV+ @ 2 yrs

Dam's Dam's Sire:

My-Enchanted-Acres ZZ Top

*B 88 VEV @ 3 yrs

Dam's Dam's Dam:

GCH My-Enchanted-Acres Molly Brown

7*M 90 VEEE @ 7 yrs

'09 Nat'l 2nd place Dry Yearling

'09 Res. All American Dry Yearling

'12 Nat'l 8th place 4 yr old