ROYAL HIGHLANDS PRINCESS SADIE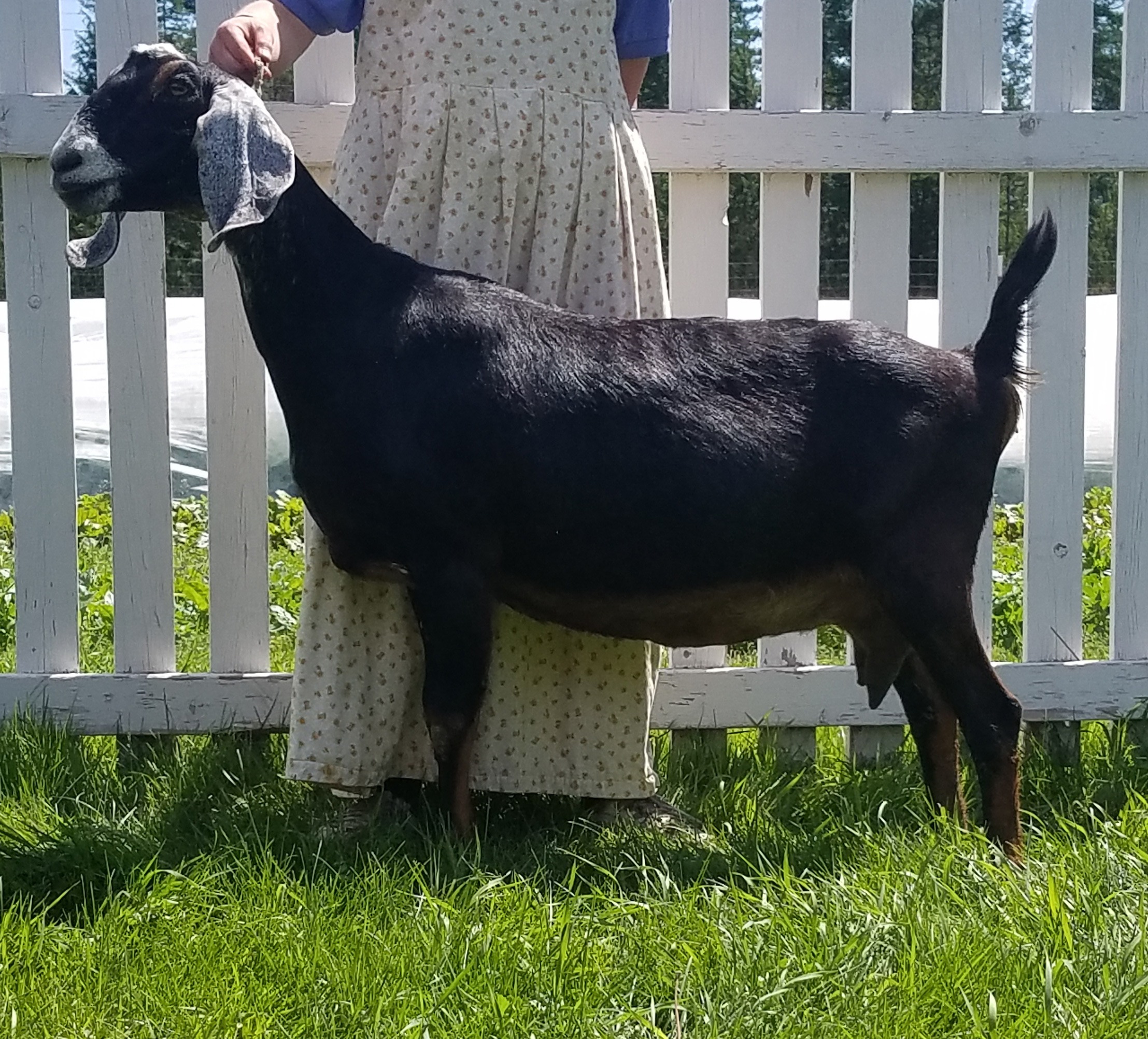 Sadie at 4 years old
Sadie is a very special doeling. We knew before she was born we wanted to keep a Regina daughter, and Sadie was definitely the pick of the litter. Something that makes Sadie special is that Regina Her dam was pet was a of our Sarah's. She was especially looking forward to Sadie's birth. After Sarah passed away this last spring, we decided named this doeling in her memory. In her own right Sadie is growing into a large and elegant doeling. We look forward with high expectations to see how she freshens and matures.
2018 Update: Our baby Sadie is a baby no longer, but a lovely young milker with a wonderful mammary system and peaked at 7#!
Long, level and solid in shoulders and legs and did I mention those long ears! Sadie is meeting all our expectations. We are thrilled to have her in our herd. We look to seeing her more in the years to come.
2019 update: Sadie is doing a great job living up to all our expectations.
She has a incredible mamary system. It is high and has great arch, medial ,and teat placement.
She peeked this year over 10#! We are proud of her and can't wait to see what she will continue to do as she matures.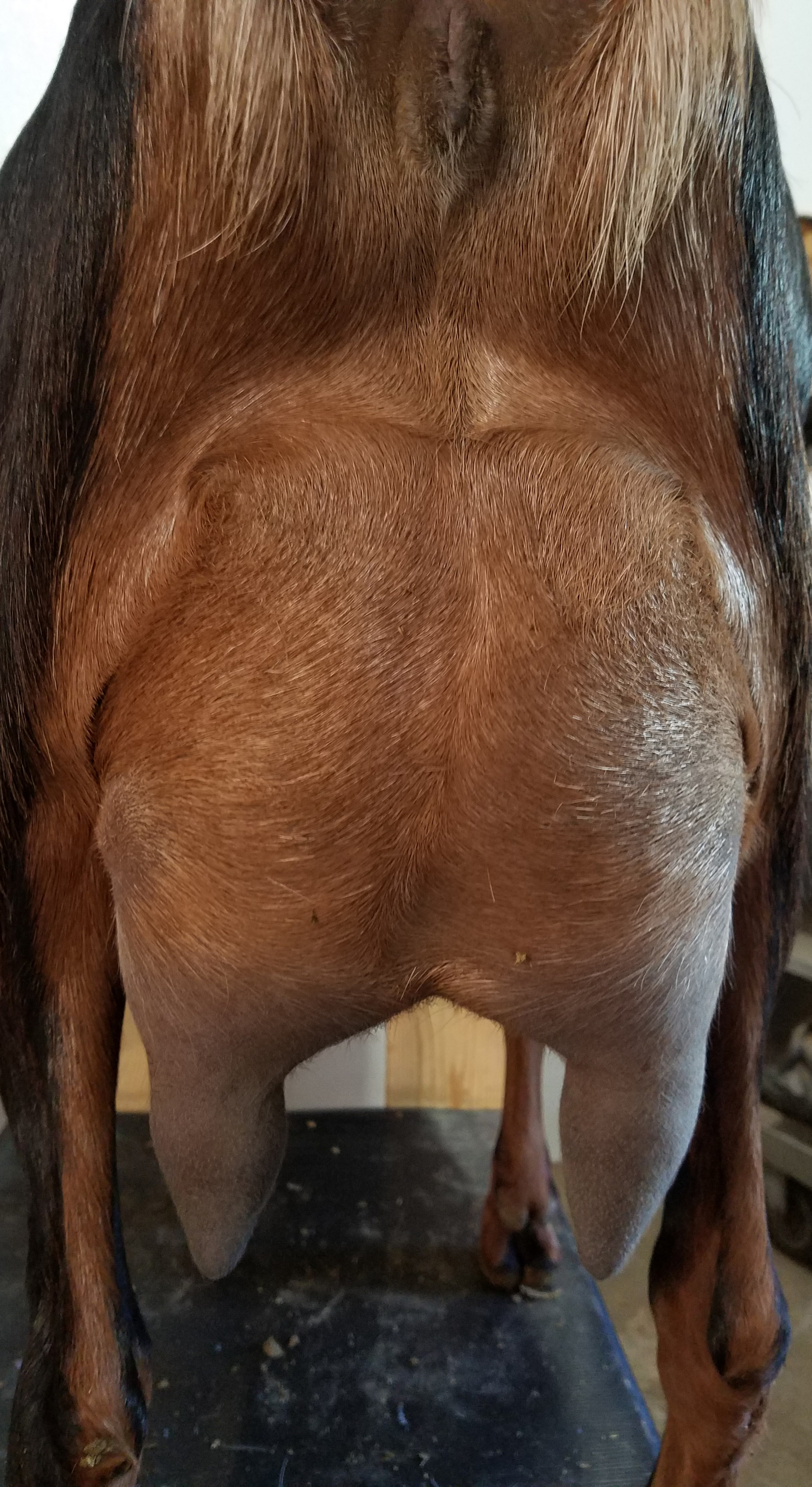 Date of Birth: 6/11/16
Registration Number: N1837508 (Click registration # for ADGA pedigree)
CAE: Negative '20
CL: Negative by parentage,16
G6S:
TB: Dam Negative,16
Brucellosis: Dam Negative '16
PTI/ETA
PTI
PTI
ETA
ETA
LA: N/A
DHIR: N/A
Kidding Record:

Related Goats in Herd:
RH River Song (Maternal Sister)

Rh True Vision (Pateral Brother)
Pedigree:
Sire:

Nomad raging storm

YOUNG STOCK LA: V

Sire's Sire:

SAADA X-QUISITE MOSCATO

Sire's Sire's Sire:

SAADA B.B.'S KING KOAL

Sire's Sire's Dam:

SAADA X-QUISITE GRACE

Sire's Dam:

NOMAD SWEET BAKLAVA

Sire's Dam's Sire:

WOEST-HOEVE UNCLE SAM

Sire's Dam's Dam:

NOMAD SWEET ECLAIR

Dam:

Royal Highlands Princes Regina

Dam's Sire:

LOT-O-PINES VALENCE





Dam's Sire's Sire:

GOLDTHWAITE ATLAST

Dam's Sire's Dam:

BEDOUIN DARK CRYSTAL

Dam's Dam:

MY-ENCHANTED-ACRES MOLLYZGRACE

84 +VV+ @ 2yrs.

Dam's Dam's Sire:

MY-ENCHANTED-ACRES ZZ TOP

Dam's Dam's Dam:

GCH My-Enchanted-Acres Molly Brown

7*M 90 VEEE @ 7 yrs

'09 Nat'l 2nd place Dry Yearling

'09 Res. All American Dry Yearling

'12 Nat'l 8th place 4 yr old