Summer Squash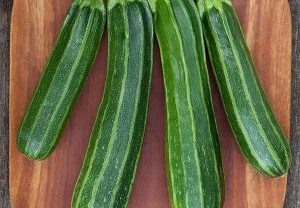 Cocozelle
Productive, tasty Italian variety with attractively striped fruits. Flavor is slightly nutty; and more flavorful than most zucchini. Straight fruit with very slight ribbing over the lighter green striping. Uniform shape, Bush habit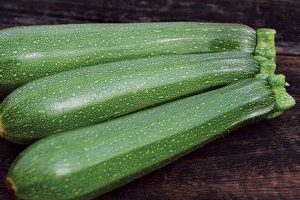 Drk Grn Zuke
Vigorous variety produces good yields of straight, smooth fruits. An open-pollinated variety best suited to the home garden, with abundant yields of lightly mottled dark green fruits. Pale greenish-white, firm flesh. Bush habit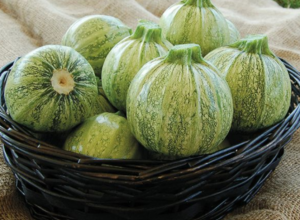 Ronde de Nice
---
Perfectly spherical light green fruits with white speckling – a unique specialty item! Heirloom from southern France with nice nutty flavor and great texture for fresh eating or freezing. Round shape and small size make this variety perfect for stuffing!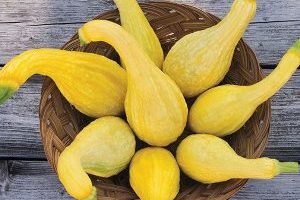 Yellow Crookneck
Tender lemon-yellow fruits. Signature bent fruit are best harvested at 5-6″ long or smaller for best flavor and texture. If left to overgrow, can be used for a dark yellow, warty ornamental gourd. Prolific yields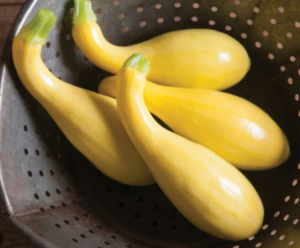 Goldfinch
Prolific, disease resistant plants with smooth, uniform and attractive fruit .A breakthrough in OP summer squash; high yielding of abundant, disease-free harvest. Uniform shape.
.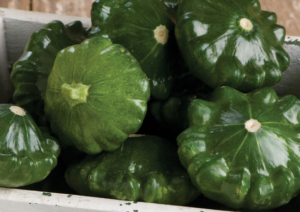 G-star
Dark-green, shiny, organic patty pan. G-Star's fruits are darker green and more ribbed. The smaller this prolific yielder is picked, the shinier it will be. Open plants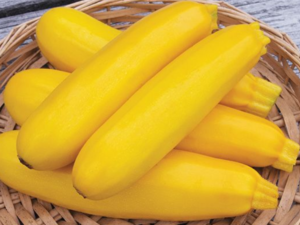 Yellow Finn
Uniform, cylindrical fruits with pure gold color and buttery flavor simply glow at market. Compact, nearly spineless plants have an open habit for ease of harvest.
.
Rheinau Gold
A terrific yellow zucchini – delicate texture with a light flavor. Thin skin contributes to good eating quality with no need to peel. Smaller plants have an open growth habit and are productive over a long season. The fruit don't grow as large as green zucchini.
.
Y-Star
A new color and new earliness for patty pan squash. Bright yellow uniform scallops with pale green stars on the blossom end. Harvested small, they are quite sweet and tender, their open plant habit with minimal spines making them extremely easy to gather. Y-Star really pumps out the fruits over an extended period.
Winter Squash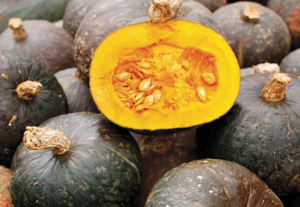 Bagheera Kabocha
High yielding dark green kabocha with exceptionally dense, dry texture and delectable rich flavor. Fruits measure about 4.5″ in height and 6.5″ in diameter. Semi-bush habit 3-4 lbs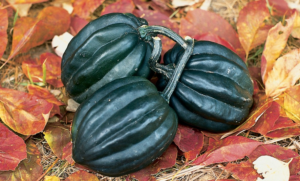 Tuffy Acorn
Tuffy has always been a baking favorite. Lives up to its reputation as the best-tasting acorn. Great flavor coupled with dry texture (two elements of a great squash). Sweeter, and tastier flesh than other acorns. Easily identified by its attractive, heavy ribbing and black-green skin. Vining plant habit.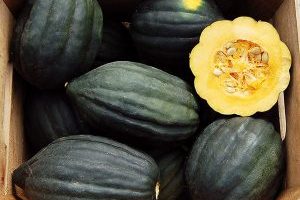 Table Queen Acorn
Very popular, vigorous acorn variety with prolific yields of delicious fruit.
Flesh is thick and light orange with excellent flavor. Vigorous and prolific, can withstand poor soil conditions and keeps very well. Compact 3-4′ vines.
Stores well 1.5-2 lbs
Red Kuri
Teardrop-shaped, striking red-orange squash from Japan. Also known as Baby Red Hubbard or Orange Hokkaido, this delectable variety has smooth, sweet, dry orange flesh. Very reliable yield even in cool climates with short growing seasons. 3-4 lbs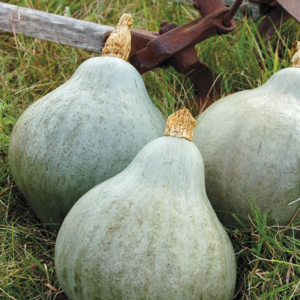 Baby Blue Hubbard
Scaled-down blue hubbard w/ smooth gray skin and sweet flesh. Fruits are of consistent quality and teardrop shaped, with sweeter flesh than the standard Blue Hubbard. Uniform fruit, 5-7 lbs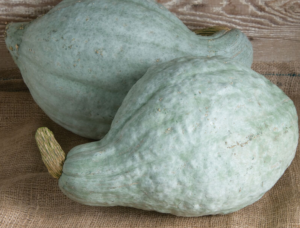 Blue Hubbard
---
Decorative farmstand favorite. A beloved heirloom with a hard, bumpy, blue-green shell. A fall tradition at New England roadside stands. Medium-dry, medium-sweet yellow flesh. 15-40 lbs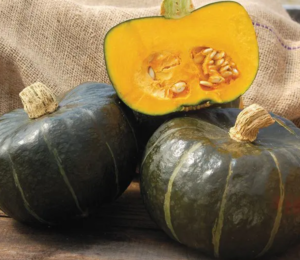 Burgess Buttercup
The classic buttercup. A northern New England favorite. Great culinary attributes for an organic, open-pollinated variety: creamy, deep orange flesh with rich, sweet flavor. 3-5 lbs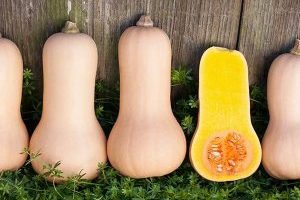 Nutterbutter
Uniform, personal-sized fruits with consistently nutty, sweet flavor. Reliably matures in regions that have trouble ripening butternuts. Some tolerance of powdery mildew. Selected for uniformity, bell-shape, early maturity and great flavor. Early and reliable 2.5-3.5 lbs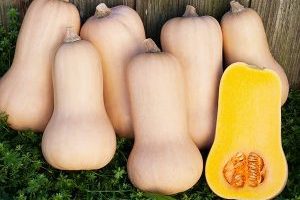 Havana Butternut
This midsize butternut holds like a champion in storage, maintaining both texture and flavor. Uniform, blocky fruits have an even taper and traditional butternut color. A thick neck and a small seed cavity maximizes yields of nutty tasting flesh. 3-4 lbs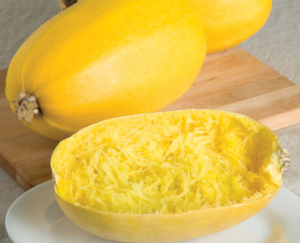 Spaghetti
Fork over the squash pasta! Oblong light yellow fruits have very sweet flesh. Bake or boil this unusual vegetable and the flesh separates into long noodles resembling spaghetti. A fun treat for the family with kid friendly vegetable appeal – just top with sauce and serve! 4-5 fruits/plant.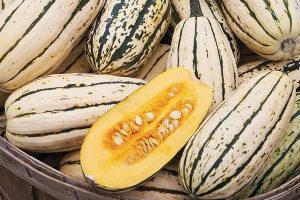 Bush Delicata
Compact, tidy plants with sweet, oblong fruits. Delicious smooth, nutty flesh with hints of butter and brown sugar. Skin starts creamy white with green stripes and flecks, curing to striped light yellow. Compact plants spread only 4-6 feet.. Bush habit 1.5-2 lbs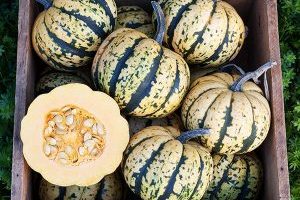 Sugar Dumpling
Perfect two-serving dumpling squash with creamy striped skin and very sweet flesh. Deep orange, fine grained inner flesh. Exceptionally high sugar content.4-6 fruits/plant. Stores up to 6 months. Semi-bush habit 1.5-2 lbs