Hot Peppers
Numex Joe
Southwestern style traditional Anaheim harvested green for stuffing, grilling, roasting or processing. Peppers average 8″ long & have thick, crisp flesh w/ mild heat & excellent flavor.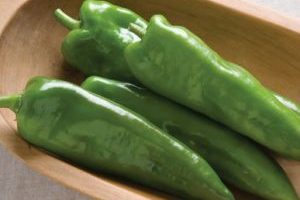 Highlander
Early and adaptable Anaheim.
Good productivity even in cooler regions where Anaheim types often are shy yielding. Traditional, semi flattened, mostly two-lobed fruits avg. 7″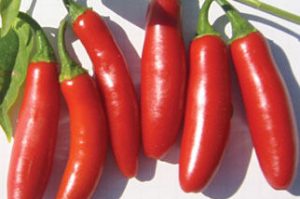 Serrano Hidalgo
Large 2-3′ plants produce plentiful smooth, club-shaped, 1 1/2″ long fruits with medium-thick walls. Best used fresh, the fruits mature from green to red..
Maules Red
High yielding plants are very productive, even in short-season climates. Glossy red, 10- to 12-inch Cayenne-type fruits, and of similar heat to Cayenne. A fine sort for picante sauce or drying.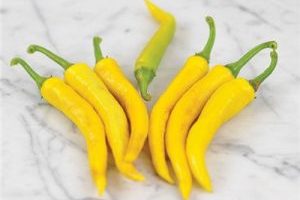 Golden Cayenne
Long, slightly twisting cayenne, sometimes slightly hotter than red cayenne, The fruits start out green, ripen to golden yellow, developing their most intense heat only at full maturity.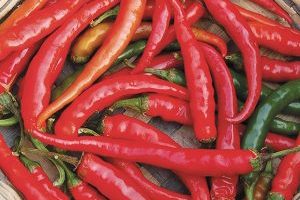 Ring of Fire
This is a hot, hot pepper.
Prolific, dependable and matures early.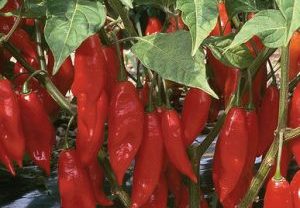 Hot Paper Lantern
Earlier and more productive than regular habaneros.
Magnificent, elongated and wrinkled, red, lantern-shaped fruits are 3-4″ long.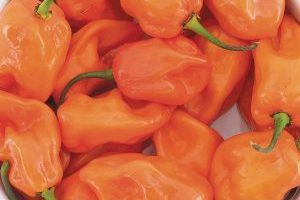 Magnum
HOT HOT HOT!!!
Watch out for this pepper's heat!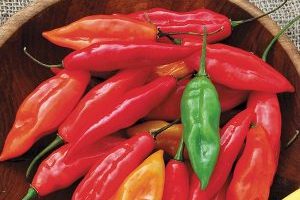 Maya Red
Bright red, glossy fruits with outstanding appearance, flavor and burn in our taste tests.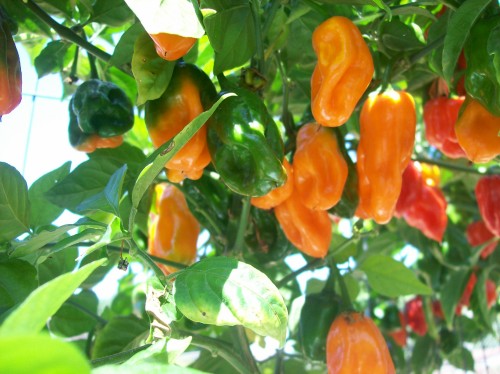 Orange Habanero
. A Scotch Bonnet–type infamous for its extreme heat, fiery Habanero registers a blistering 200,000–325,000 Scoville units, 30–80 times as hot as Early Jalapeño ! Each 1½' plant will set 10–20 pendulous fruits that turn from dark green to tangerine as they mature.
Carrot Bomb
An explosion of round 1–2″ shiny bright tangerine baubles blow up the pepper patch on sturdy 2–2½" plants. The heat is comparable to a mild jalapeño. A bold spark in salsas, kebabs, stir-fries or the pickle jar.
Szentesi Cherry
Classic Hungarian hot pepper with a rich flavor. Heat is high but not too extreme. Round, red cherry shaped fruit are about 1" wide and deep red when ripe.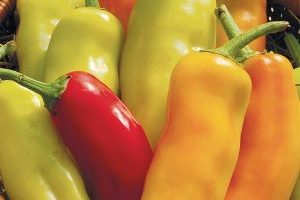 Hungarian
Hot Wax
Long, banana-shaped waxy pepper used for frying, stuffing and pickling.
Very productive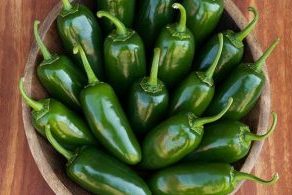 Triunfo
Jalapeño
High quality hybrid jalapeño that cranks out bushels of nearly perfect fruit.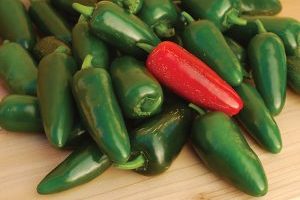 Traveller Jalapeno
Attractive, 3″ long fruits ripen from green to bright red and have a nice jalapeno flavor with just the right amount of heat. Flavor is best when fruits are fully mature. Great for salsas, roasting, pureeing for hot sauce or smoking to make chipotles.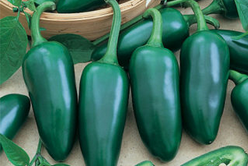 Classic Jalapeño
Classic Jalapeño used for nachos and poppers. Plants are productive over a long season.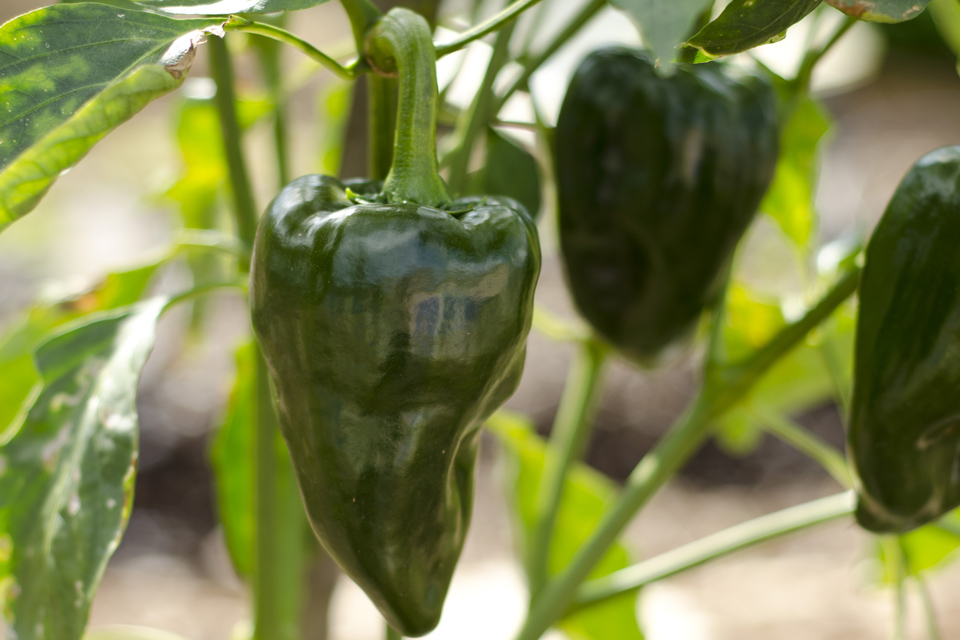 Pablano
Mild heart-shaped chili perfect for stuffing in chiles rellenos or dried for ancho chili powder. Stout dark green fruits are moderately spicy with medium-thick walls. Referred to as Poblano when used fresh and Ancho when dried for seasoning.
Hot Thai
This plant produces large numbers of 1-inch green fruits that mature to blazing red color with heat and flavor to match! These are extremely hot.
Sweet
Peppers

Early Thai
2-3″ long, slender, pointy peppers that are quite hot. An early variety specially adapted to cooler climates and short growing seasons.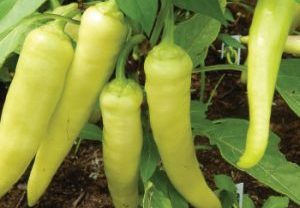 Banana
Pepper
Sweet, mild banana peppers that mature from yellow, to orange, and then to crimson red. Great for frying and pickling, an excellent choice for making pepper rings for sandwiches.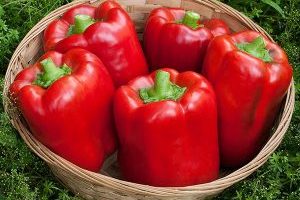 California
Wonder
Large, blocky, thick-walled glossy fruit that turns red quickly under a range of conditions. Upright, everbearing habit keeps fruit high on 24-30″ plants.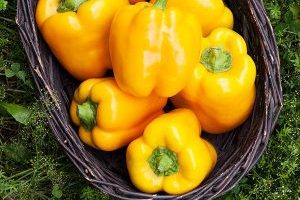 Golden California
Wonder
High yields of deep gold, thick-walled fruits that set well in cool conditions.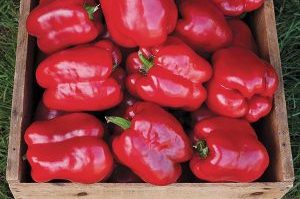 Jupiter
Large, sweet fruits of excellent quality. Stout peppers have thick walls and four lobes; great for stuffing and freezing.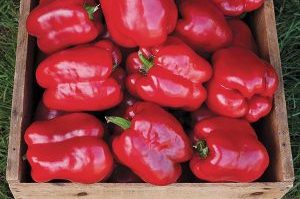 King of the
North
Blocky, thick-walled, early ripening peppers each with three to four lobes. Known for its ability to produce good sized peppers in short, cool seasons. Strong plants support heavy yields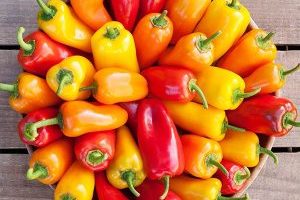 Picnic Peppers
Red, yellow, and orange Picnic snack peppers are combined in this mix. These beautiful, mini-sized peppers are remarkably sweet and flavorful.
Milena
Early orange bell with thick walls and uniformly 3-4 lobed fruit. Vigorous open habit with good yield and solid fruit set, even under hot conditions.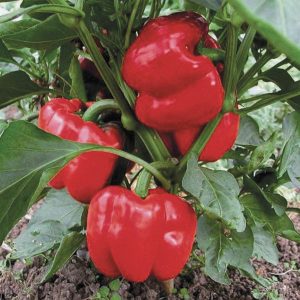 Olympus
High yielding jumbo peppers for long seasons or unheated tunnels. Plants are vigorous and bushy, providing plenty of coverage all season long. Slightly elongated blocky bell shape.
Habanada
This exceptional snacking pepper has all of the fruity and floral notes of the habenero without any spice (even the seeds are sweet and add to the flavor).
Italian Pepperonicini
Sweet yellow peppers turn red in the fall and become amazingly sweeter. Try this unique variety eaten raw or pickled in the traditional way. An Italian heirloom.
Round of Hungary
Plant produces good yields of dark red sweet peppers. Peppers are ribbed and flattened, and very thick flesh. Perfect for salads, stuffed peppers, cooking, and gourmet dishes.
Stocky Red Roaster
Outstanding variety with juicy, sweet fruit; competes well with hybrids. Attractive, smooth-skinned fruits with thick walls. Tall plants with upright habit are covered in fruit.
Purple Beauty
Nearly black skin creates incredible contrast with the bright green flesh. Fruit is set in the crown and on each limb, optimizing yield per plant. Holds purple stage well before ripening to a deep purple-red. Widely adapted.
Roulette
Roulette imparts a sweet, floral flavor without the traditional fire we expect from a habanero. The beautiful bright red fruits are borne on large, sturdy plants.