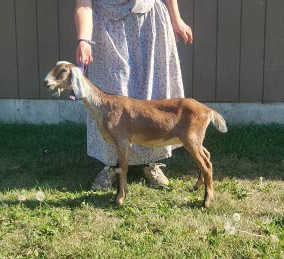 Royal Highlands Carmel Caribu
Caribu affectionately known as carrie is a Sweet little doe out of Cookie. Carrie is level arcoss the top line and has lovely front leg set.
She is very open and excells in dairy strength. Unfortunately we are unsure of who her sire is, but we are doing the DNA test to find out.
Carrie will be dry this year. We look forward to seeing how she matures.
Date of Birth: 6/28/22
Registration Number:
CAE: NegativeBy parentage
CL: Negative By parentage
G6S:N/A
TB: N/A
Brucellosis:N/A
PTI/ETA
PTI
PTI
ETA
ETA
LA: N/A
DHIR: N/A
Kidding Record:
Related Goats in Herd:
Dam: Royal highlands Cookiesncream
Sire: To be determained
Pedigree:
Sire:

Sire's Sire:

Sire's Sire's Sire:

Sire's Sire's Dam:

Sire's Dam:

Sire's Dam's Sire:

Sire's Dam's Dam:

Dam:

Royal Highlands

CookiesnCream

Dam's Sire:

Royal Highlands True Vision

Dam's Sire's Sire:

Nomad Raging Storm

Dam's Sire's Dam:

ROYAL HIGHLANDS KHOCOLATE

Dam's Dam:

Royal Highlands Blue Bunny

Dam's Dam's Sire:

ANCIENT WAY THUNDER

Dam's Dam's Dam:

Royal Highlands Princess