ROYAL HIGHLANDS SWEETCORIANDER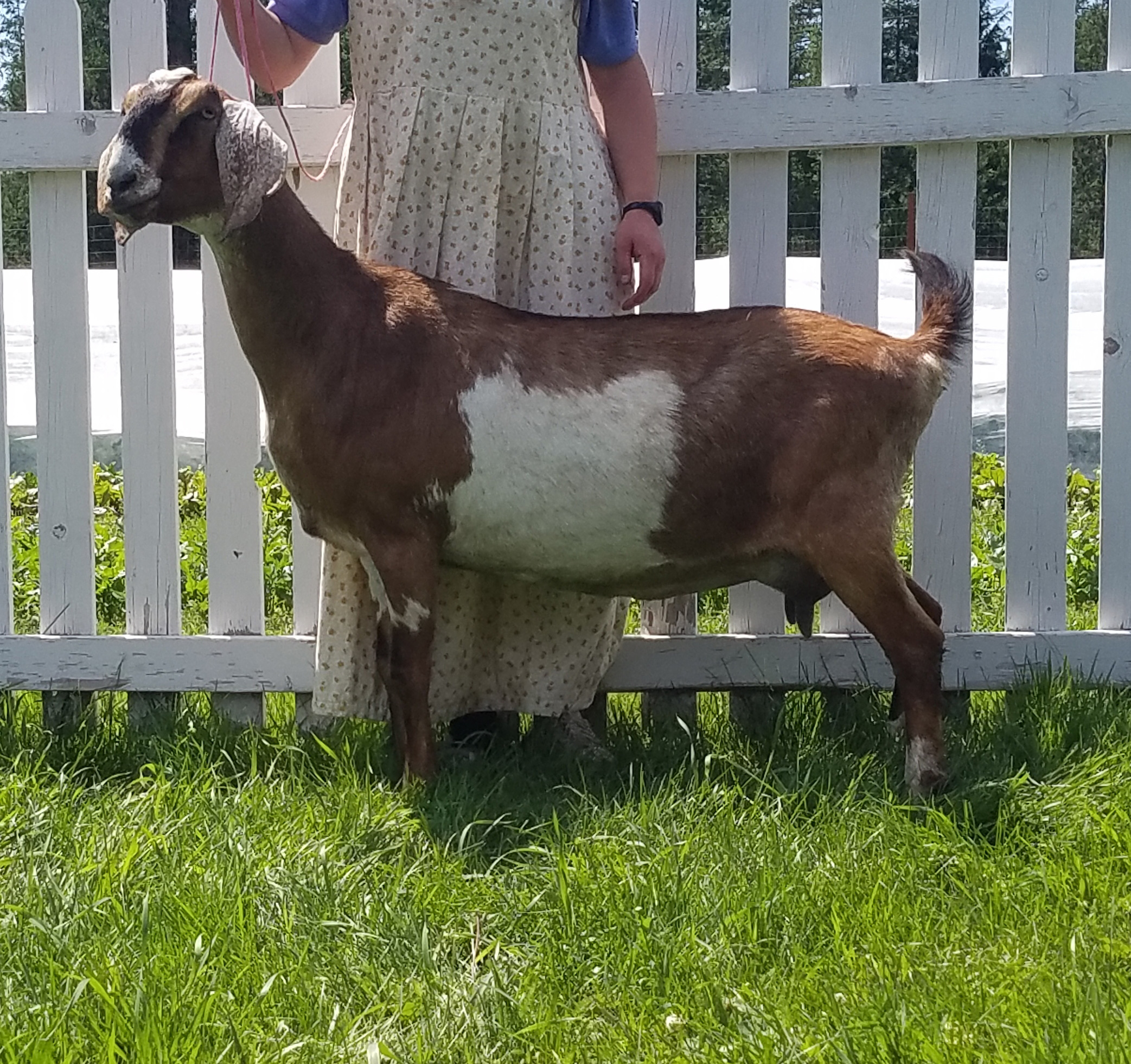 Corrie at 4 years Old
Corrie is a very sweet, striking little goat, who thinks she should be on our future show string. We were thrilled that at 6 her dam gave us triplet doelings! We had a hard time deciding which one to keep. And choosing Corrie was a choice we do not regret.
She is especially correct in her front end assembly. She also has the combination of level top line and angulation we rarely see.
We look forward to seeing her freshening this spring.
2017 Update: Corrie freshen this year with a promising mammery and peaked at just over 5#. Then suprise! In November she gave birth to two beautiful doelings, then rebred 6 weeks latter for June kids.
We look forward to seeing her freshen again!
Date of Birth: 2/1/16
Registration Number: N1837509(Click registration # for ADGA pedigree)
CAE: Negative'20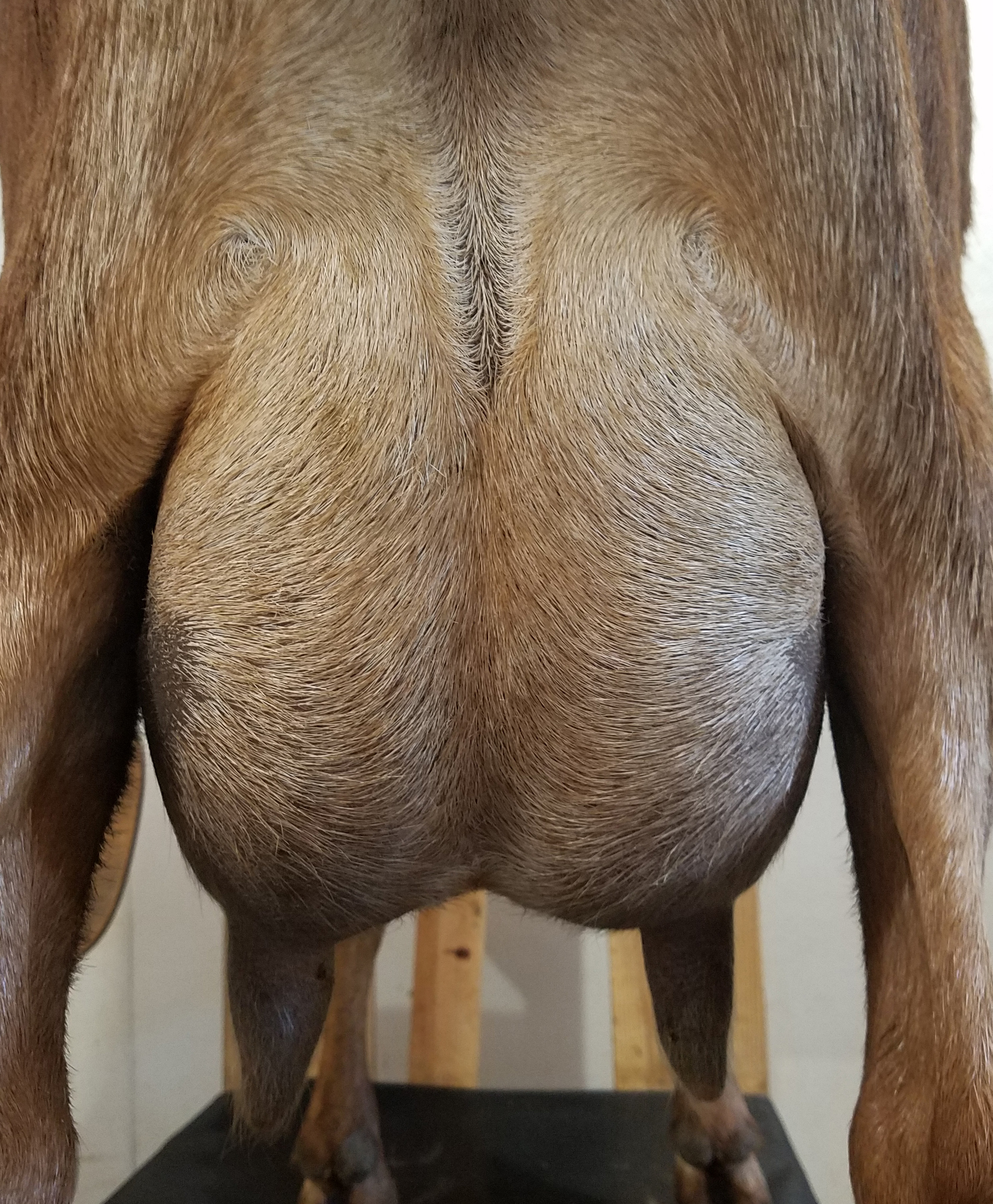 CL: Negative By Parentage
G6S
TB:Dam Negative
Brucellosis:Dam Negative
PTI/ETA
PTI
PTI
ETA
ETA Corrie @3 Yr
LA: N/A
DHIR:N/A
| | | | | |
| --- | --- | --- | --- | --- |
| Age | Days | Milk (lbs) | Fat (lbs) | Protein (lbs) |
| | | | | |
| | | | | |
| | | | | |
Kidding Record:
Related Goats in Herd:
ROYAL HIGHLANDS PETUNIA (Paternal sister)
Royal Highlands MerySweetThyme
(Maternal sister)
Royal Highlands Mozzarella
(Paternal Sister)
Pedigree:
Sire:

ROYAL HIGHLANDS BRUCHKO

Sire's Sire:

LOT-O-PINES
VALENCE

Sire's Sire's Sire:

GOLDTHWAITE ATLAST

88VEV@ 4YR

Sire's Sire's Dam:

SG BEDOUIN DARK CRYSTAL
8*M 91 EEEE @ 5yr

Sire's Dam:

ROYAL HIGHLANDS CHELLY

90 EVVE @3yr

Sire's Dam's Sire:

ROYAL HIGHLANDS MOOSE TRACKS

Sire's Dam's Dam:

SG CRESCENT-FARM CHASTA

Dam:

LOT-OPINES ROSEMARY

90 VVEE @5yr

Dam's Sire:

BEDOUIN FINALE

85 V++ @2yr

Dam's Sire's Sire:

GOLDTHWAITE ATLAST

88VEV@ 4YR

Dam's Sire's Dam:

BEDOUIN JUMPING BEAN

89 EVEV@ 9yr

Dam's Dam:

SG LOT-O-PINES DELIGHT

90 VEEE @4yr

Dam's Dam's Sire:

GOLDTHWAITE ATLAST

88VEV@ 4YR

Dam's Dam's Dam:

BEDOUIN ENCHANTRES

90 EEEV@ 6yr