Royal Highlands MerrySweetThym

Royal Highlands MerrySweetThym
Thyme is a special doeling. We waited for years to get this girl, so that makes her rather special. She is a long, flat doe, characteristic of Valet's doelings. Her dam Rosemary is a nice doe that got her final score of 90 VVEE. She is already showing a lot of promise to follow in her dam's hoofprints. We are really looking forward to seeing this girl mature. 2016 Update: We're ecstatic that being a late April kid! Thyme freshened this year. If Thyme took her merry sweet time appearing, she surely didn't wait to show she was worth something. She freshened with a lovely mammary system and peaked at 5 1/2# this year! She is already showing promise in becoming a deep smoothly blended doe. Look for more from this doe in the future!
2017 Update: We have a saying around here that Thyme take her time to do anything! Well almost anything, that is except for maturity! After kidding with triplets she peak right at 11#with a gorgeous mammary system! Unlike many other does Thyme never sacrificed her body for milk, and is continuing to be a beautiful deep bodied doe. For two I'm not sure how to expect more!
2019 Update: It's hard to believe Thyme is already four!
She is really developing quite nicely and is a great milker to boot,
peaking right at 12#this year. She also gave us a beautiful set of triplets . We are retaining her buck as well as one of the doelings. We look forward to having her son as another one of our herd sires.
2020 update: Thyme is running steady again this year at 11#.
Date of Birth: 4/29/2015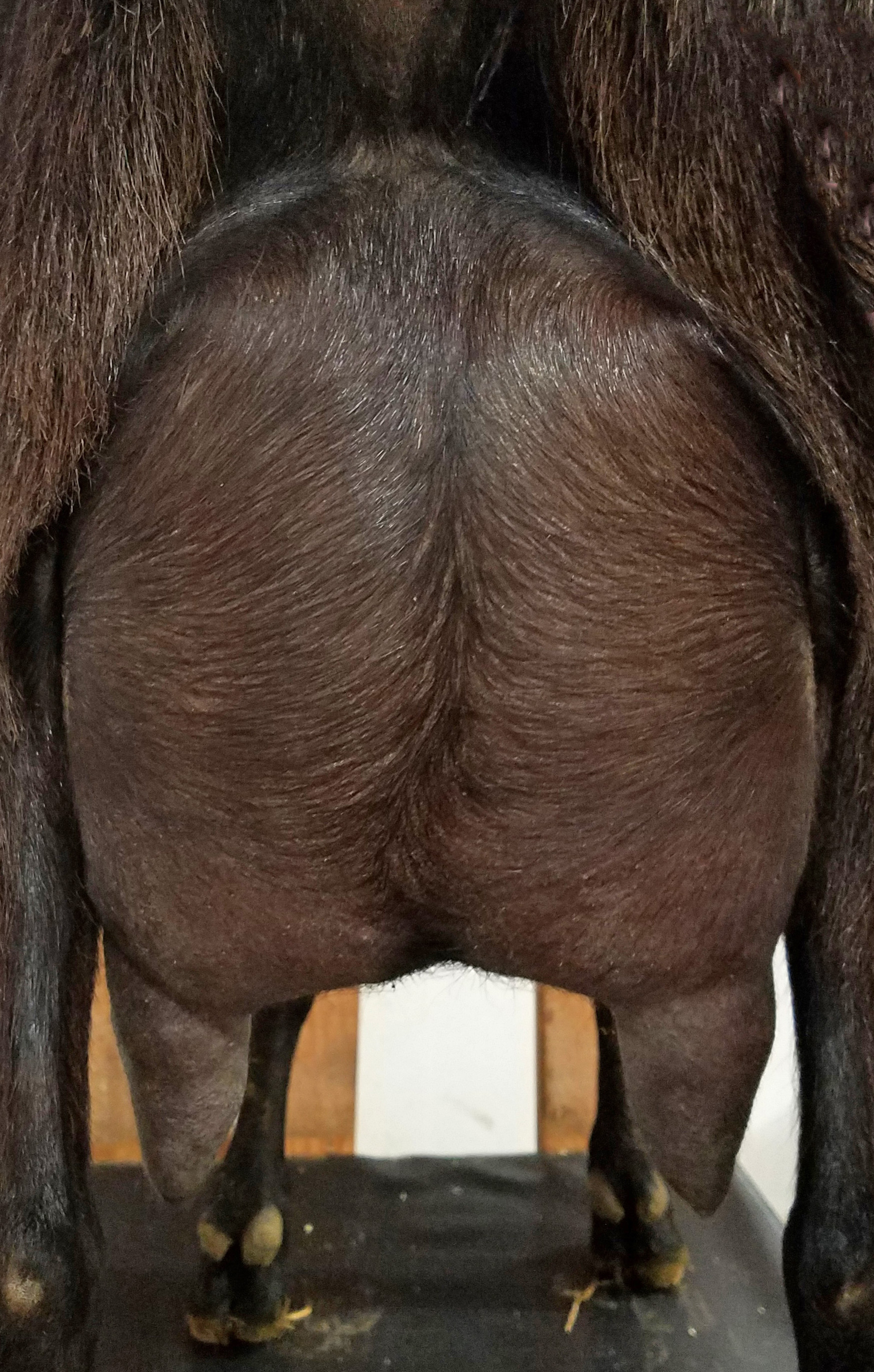 Registration Number: N1790959 (Click for ADGA pedigree)
CAE: Negative 2020
CL: Parents Negative 2016
Johne's: Not tested
G6S: Sire Normal (by parentage), Dam not tested
PTI/ETA
PTI21:
PTI12:
ETA21:
ETA12:
LA: N/A
Kidding Record:
1-01 1 buckling
2-00 3 Bucklings
2-11 1 Buckling, 1 Doeling
3-09 1 Buckling, 2 Doelings (RH.Knight Thyme),(R.H Aloe Vera)
4-10 2 Bucklings,1 Doeling (R.H Cherry Thyme)
5-11 2 Bucklings,1 Doeling (R.H Sweet Dream)
Related Goats in Herd:
Royal HighlandsSweetcoriander (maternal sister)
Pedigree:
Sire:

Royal Highlands Valet

*B

Sire's Sire:

Lot-O-Pines Valence

*B

Sire's Sire's Sire:

Goldthwaite Atlast

+*B 88 VEV @ 4 yrs

Sire's Sire's Dam:

SG Bedouin Dark Crystal

Elite 8*M 91 EEEE @ 7 yrs.

Sire's Dam:

Royal Highlands Ladybug

10*M

Sire's Dam's Sire:

My-Enchanted-Acres SonRise

*B 87 VVV @ 1 yr

Sire Development Buck

Sire's Dam's Dam:

SG Bedouin Glitterbug

9*M Elite 90 EEEE @ 6

Dam:

Lot-O-Pines Rosemary

5*M 90 VVEE @ 5 yrs

Dam's Sire:

Bedouin Finale

88 VEV

Dam's Sire's Sire:

Goldthwaite Atlast

+*B 88 VEV @ 4 yrs

Dam's Sire's Dam:

Bedouin Jumping Bean

89 EVEV @ 9 yr

Dam's Dam:

SG Lot-O-Pines Delight

4*M 90 VEEE @ 4 yrs

'12 Top 10 in Butterfat

Dam's Dam's Sire:

Goldthwaite Atlast

+*B 88 VEV @ 4 yrs

Dam's Dam's Dam:

SG Bedouin Enchantres'

3*M 90 EEEV @ 6 yrs