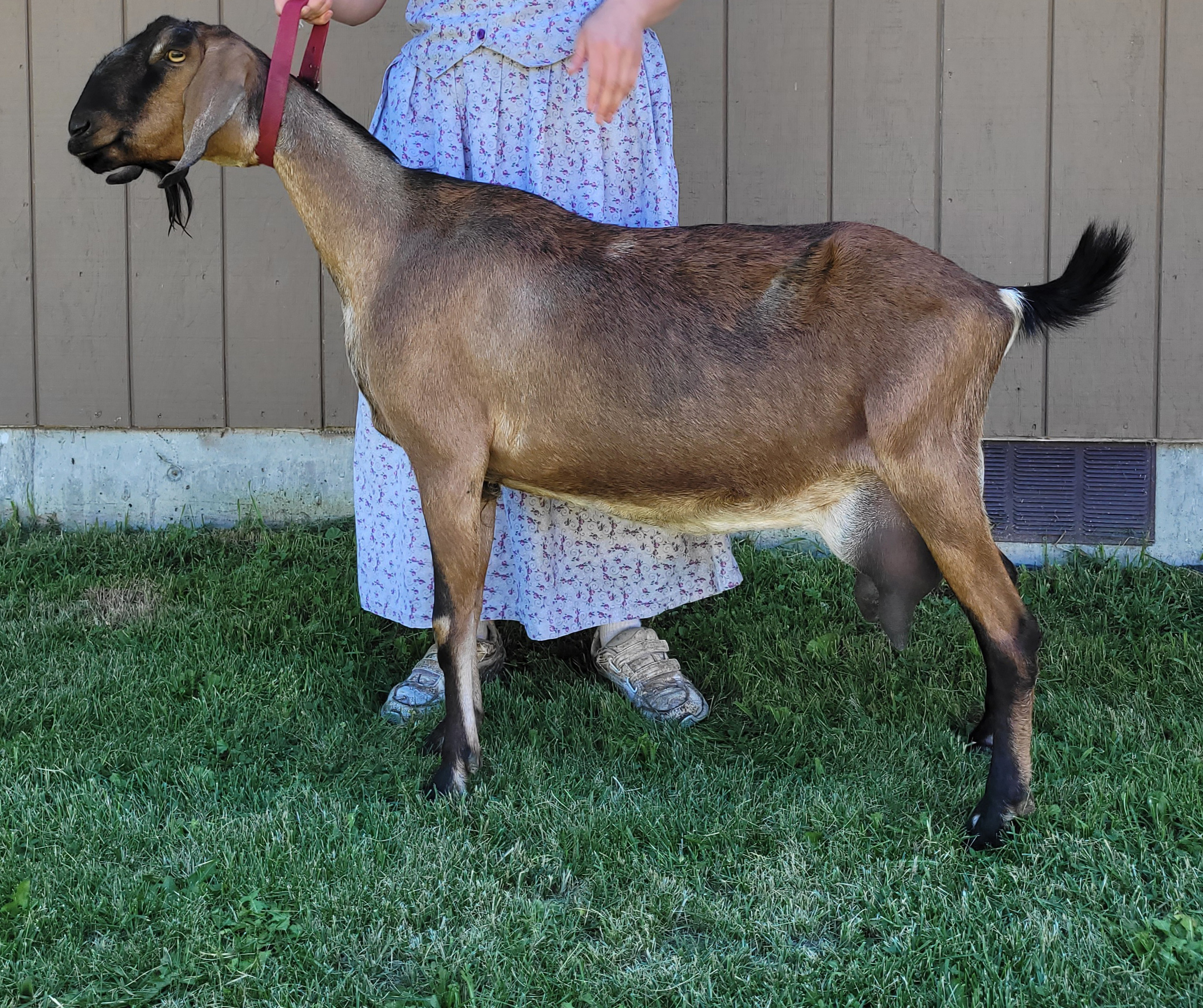 Vera At 3 Year Olds
We are excited to have Vera as our first Thunder Daughter.
From the very first Vera stood out. She reminds us in many ways of her granddam Rosemary as a kid. She is very wide through out and leval across the topline.
We have high hopes that this little girl will follow in her Dam & Granddam's "hoof print".
2020 Update: Vera is exceeding our expectations.
She gave us twins and freshened with a lovely rear udder much like her dam's. She was also our highest milking yearling peaking over 7#!
Look for more from this doe in the future!
2021 Update: Vera, what a girl! After giving us a gorgeous set of triplets,Vera came out of the gate milking like a cow. She peaked over 13# She has an amazing mammery system. High and round with great teat placement and size. We retained her son Venture as our one of our new junior herdsires. Vera is definitely one of our up and comers. We can't wait to see what she will do with a few more freshenings.
Registration Number: N2100055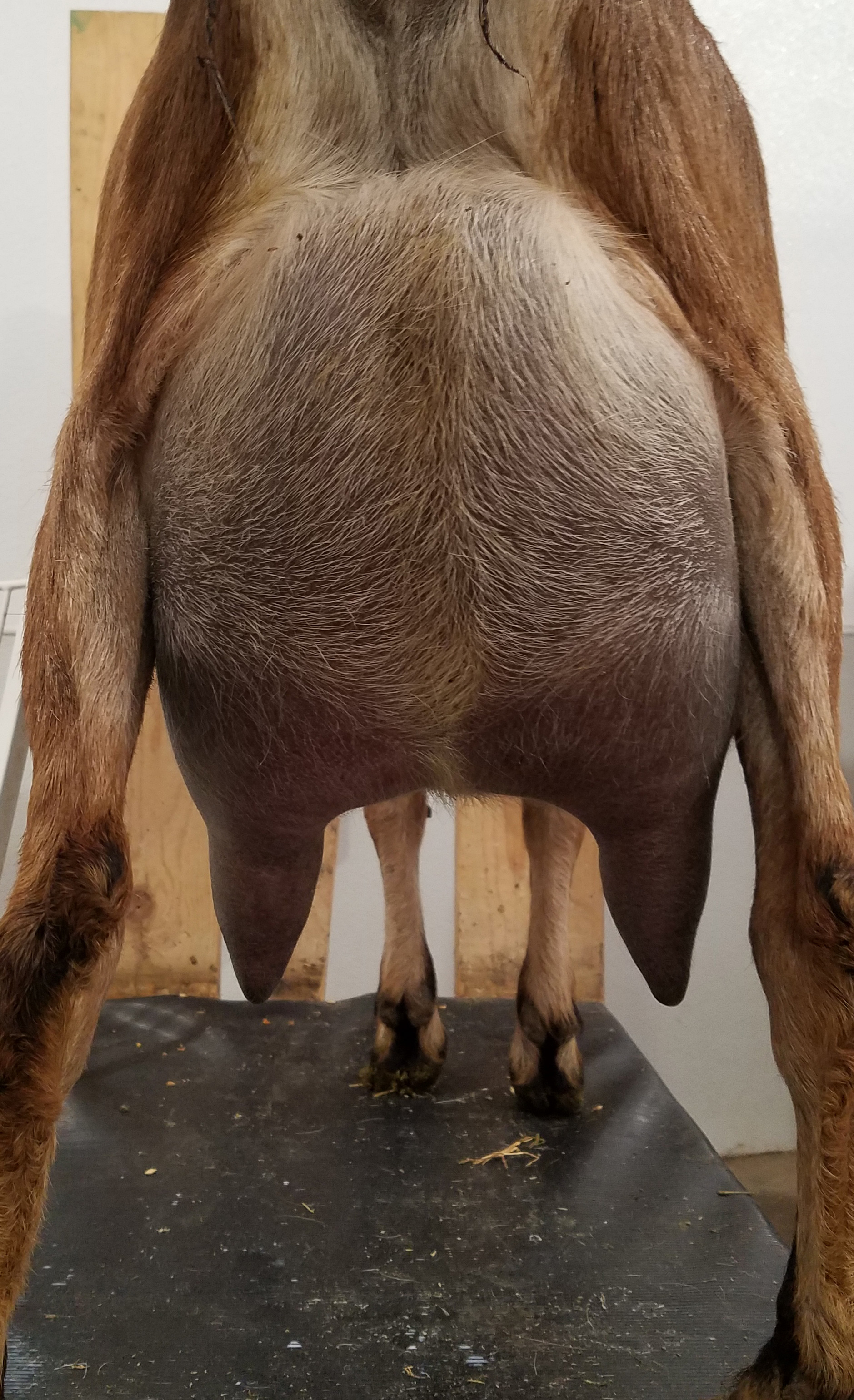 CAE: Negative '20
CL: Negative '20
G6S:N/A
TB: N/A
Brucellosis:N/A
Vera@2
PTI/ETA
PTI
PTI
ETA
ETA
LA: N/A
DHIR: N/A
Kidding Record:
1-03 2- Bucklings
2-01 2- Bucklings, 1 Doeling
Related Goats in Herd:
Dam: Royal Highlands MerrySweet Thym
Litter Mate Brother: Royal Highlands Knight Thyme
Full Sister: Royal Highlands Cherry Thyme
Paternal Sister: Royal Highlands Blue Bunny
Paternal Sister: Royal Highlands Choc Truffle
Son: Royal Highlands True Adventure
Daughter:Royal Highlands Veronica
Pedigree:
Sire:

ANCIENT WAY THUNDER

Sire's Sire:

Terratopia Flash of lightning

Sire's Sire's Sire:

My Enchanted Acres Reign Storm

85 VVV @ 5 yr.

Sire's Sire's Dam:

SGCHTHUNDER-RIDGE PS WILLOW4*M

91 VEEE @7 yr.

Sire's Dam:

SGTerratopia Rodeo's Genesis

90 VEEE @ 5 yr.

Sire's Dam's Sire:

LOT-O-PINES ZEUS

Sire's Dam's Dam:

G BEDOUIN RODEO ROSE

92 VEEE @ 5 yr.

Dam:

Royal Highlands

MerrySweet Thym

Dam's Sire:

Royal Highlands Valet

*B

Dam's Sire's Sire:

Lot-O-Pines Valence

*B

Dam's Sire's Dam:

Royal Highlands Ladybug

10*M

Dam's Dam:

Lot-O-Pines Rosemary

5*M 90 VVEE @ 5 yrs

Dam's Dam's Sire:

Bedouin Finale

88 VEV

Dam's Dam's Dam:

SG Lot-O-Pines Delight

4*M 90 VEEE @ 4 yrs

'12 Top 10 in Butterfat