Royal Highlands Princess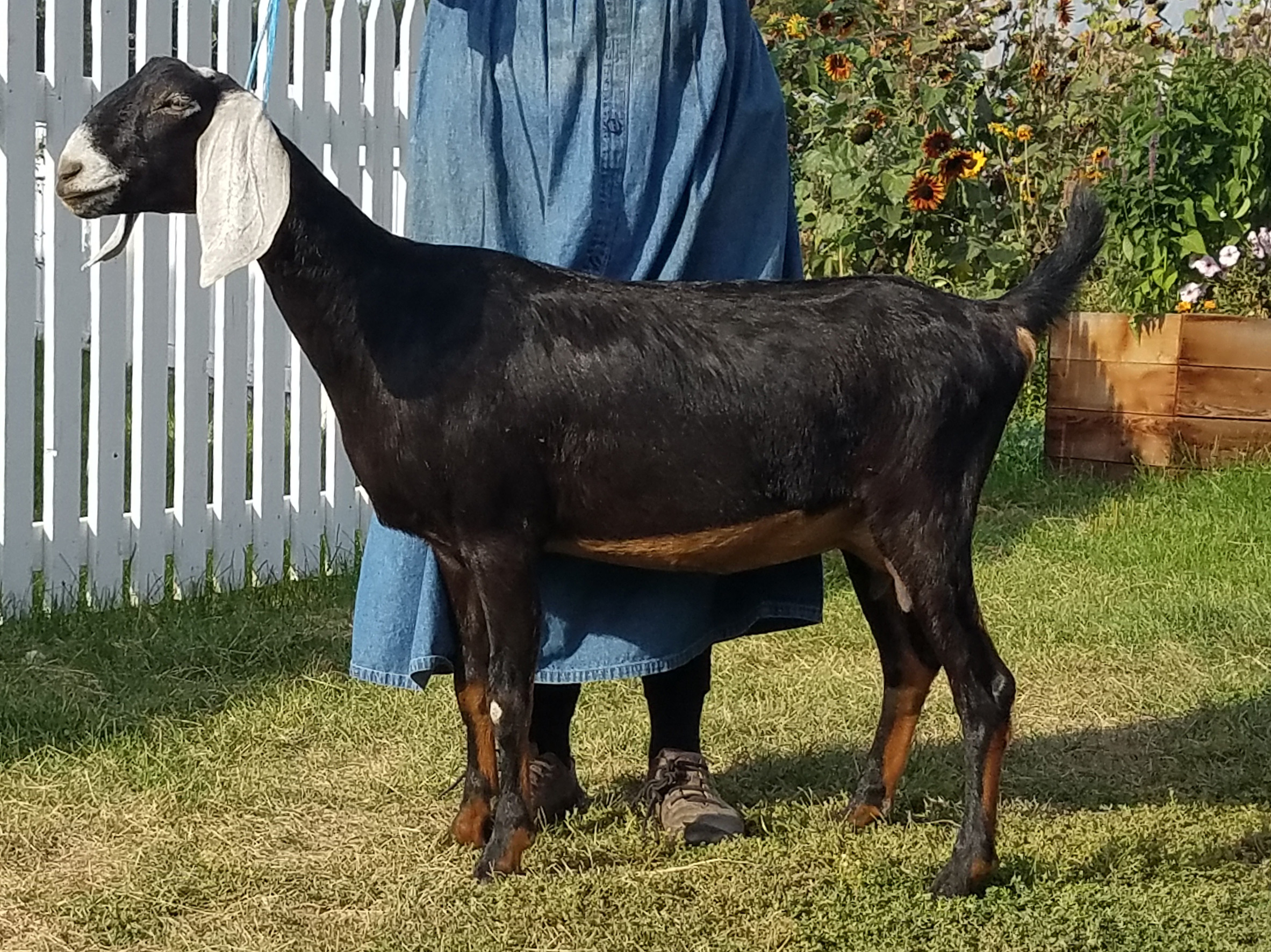 Princess At 1 Year
Princess is a very special doeling. Not only is she a favorite of 4 year old Lilly's, but she also is one of our only Orion daughters!
She has the solid bone and breed character of the Bedouin lines,
and the style and rear angulation of the MY-ENCHANTED-ACRES lines.
With her dam peaking at 14# this year, and her sire's dam peaking at 12# as a twelve year old, we expect Princess to MILK.
We look forward to seeing how she matures.
2018 Update: Princess is developing into a lovely doe.
Being a May kid last year we were suprised to see her freshen, but we were even more surprised when she gave us not one but two beautiful doe kids! We are happy with her so far.
2019 Update: Princess is turning into quite the milker!
This year she kidded with triplets an peeked just over 10#.
Her body is really starting to smooth out. She has that really nice front end assembly we are trying to bring back to our herd.
2020 Update: Princess unfortunately miscarried quads this year, so she will be taking the year off.
We look forward to seeing her freshen again in 2021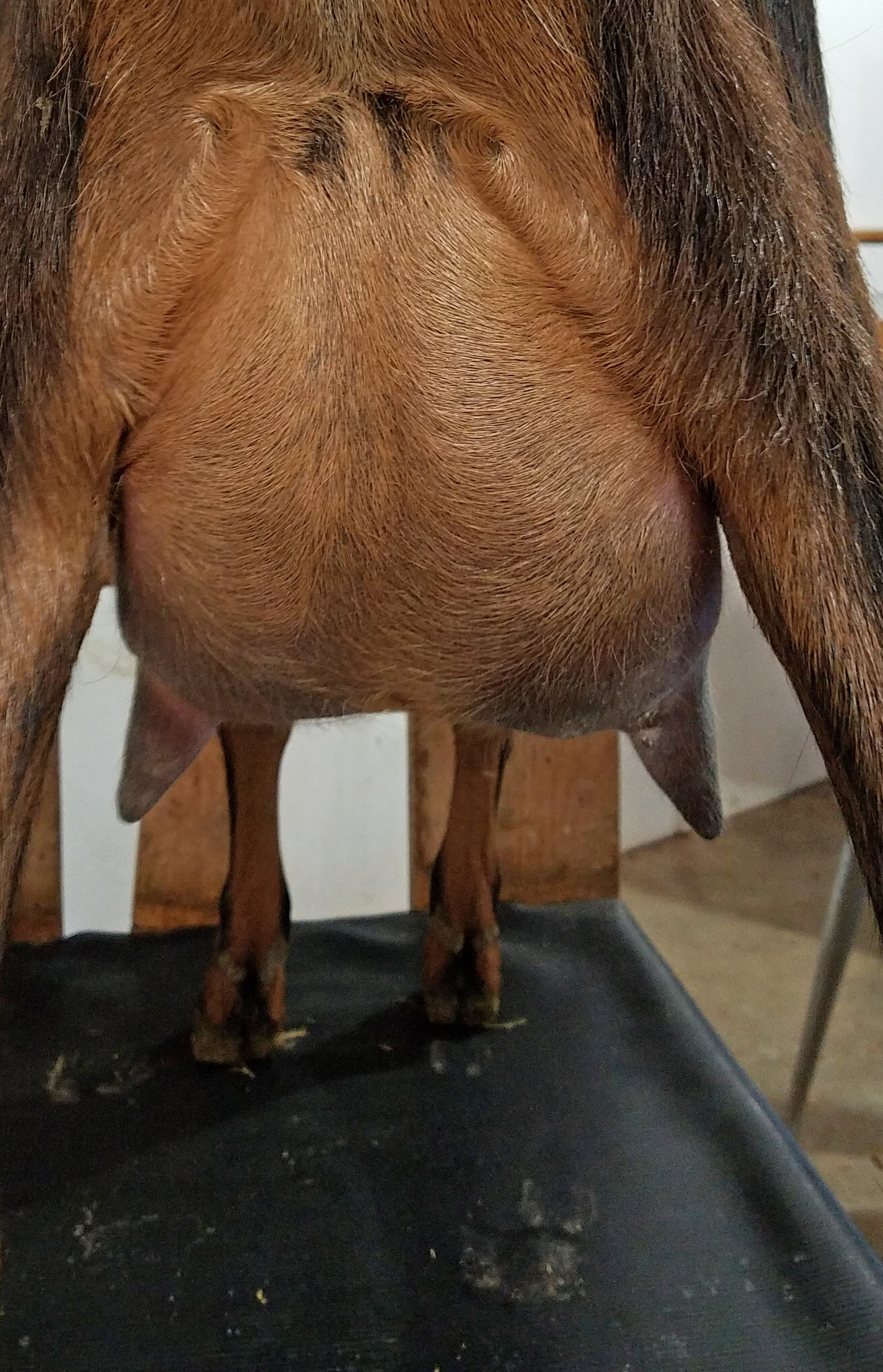 Date of Birth: 5/9/17
Registration Number:N1935806
CAE: Negative '20
CL: Negative By parentage
G6S: N/A
TB:Dam Negative
Brucellosis:Dam Negative
PTI/ETA
PTI21: 21 4
PTI12: 1 29
ETA21:
ETA12:
LA: N/A
DHIR: N/A
Kidding Record:N/A

Related Goats in Herd:
Pedigree:
Sire:

The hells Canyon Orion

Sire's Sire:

The Chosen One

Sire's Sire's Sire:

THEESFELDS LGE FRANCIS

Sire's Sire's Dam:

S

AND-BUR-KIDS AC CHOSEN

Sire's Dam:

Bedouin Hale Bop

Sire's Dam's Sire:

Bedouin solar Max

Sire's Dam's Dam:

THUNDER-RIDGE HOPPIN*HADLEY

Dam:

Royal Highlands

Princess Rhoda

Dam's Sire:

Lot-o-Pines Valance

Dam's Sire's Sire:

GOLDTHWAITE ATLAST

Dam's Sire's Dam:

SG Bedouin Dark Crystal

Elite 8*M 91 EEEE @ 7 yrs.

Dam's Dam:

MY-ENCHANTED-ACRES MOLLYZGRACE

84 +VV+ @ 2yrs.

Dam's Dam's Sire:

MY-ENCHANTED-ACRES ZZ TOP

Dam's Dam's Dam:

GCH My-Enchanted-Acres Molly Brown

7*M 90 VEEE @ 7 yrs

'09 Nat'l 2nd place Dry Yearling

'09 Res. All American Dry Yearling

'12 Nat'l 8th place 4 yr old